Structural Design of Raft Foundation - A Case Study of Lucknow Region in Uttar Pradesh, India
Keywords:
Raft foundation, High rise buildings, Alluvial region
Abstract
In this age of rapid growth in population in India, there is a scarcity of land in prime locations especially in metro cities of the country. To overcome this problem we are moving towards vertical constriction. The main problem in moving towards vertical construction is the foundation system, if the foundation system in high rise buildings is not planned and designed smartly and economically then there are different problems related to the foundation system that is going to arise, the soil in that area also plays a very important role in designing of the economical and stable foundation system. It is always beneficial to have a raft foundation on alluvial soil for high-rise buildings. But, however, it is a matter of great concern what foundation will be proposed on such types of natural soils or man-made refills. In this paper, an attempt has been made to design a raft foundation based on its geotechnical analysis. An extensive survey of research works devoted to studying the geotechnical parameters affecting the behavior of raft foundations is carried out with detailed experiments raft foundations are increasingly being recognized as an economical and effective foundation system for high-rise buildings. This paper sets out some principles of design for such foundations, including design for the geotechnical ultimate limit state, the structural ultimate limit state, and the serviceability limit state. Attention will be focused on the improvement in the foundation performance due to the raft being in contact with, and embedded within, the soil.
Downloads
Download data is not yet available.
References
K. Rajkumar, R. Ayothiraman, and V. A. Matsagar, "Effects of soil–structure interaction on dynamic response of framed machine foundation resting on raft and piles," Pract. period. struct. des. constr., vol. 26, no. 3, p. 04021022, 2021.
P. Sêco e Pinto, "Static and seismic pile foundation design by load tests and calculation models," Soils Rocks, vol. 42, no. 3, pp. 211–244, 2019.
D. Yu. Sarkisov, V. V. Krylov, *, E. T. Ergeshov, J. S. Goussous,"Analysis of changes in the survivability of building structures reinforced after an emergency dynamic impact in the context of assessing the security of buildings in the oil and gas industry," Int. J. Adv. Appl. Sci., vol. 8, no. 12, pp. 25–35, 2021.
B. A. Singh and N. Lingeshwaran, Seismic Study Of G+ 5 RC Framed Structure Supported on Raft Foundation.," Int. J. Adv. Appl. Sci , vol. 8, no. 4, pp. 467–476, 2017.
A. Chinchole and C. S. Tumrate and D. Mishra, "Design of Base Isolation System for a Six Storey Reinforced Concrete Building", Conference Series: Earth and Environmental Science, vol. 796, no. 1, pp. 1-12, 2021.
J. A. Hooper, "Raft analysis and design: some practical examples"," The Structural Engineer., vol. 62A, No. 8, 1984, pp. 233-244.
P. K. Basudhar, A. Das, S. K. Das, A. Dey, K. Deb, and S. De, "Optimal cost design of rigid raft foundation," in the Tenth East Asia-Pacific Conference on Structural Engineering and Construction (EASEC-10), vol. 7, Bangkok, Thailand, 2006, pp. 39–44.
A. Abdelrazaq, F. Badelow, S. H. Kim, and Y. H. Park, "Foundation Design the 151 story Incheon Tower in Reclamation Area," in Proceedings of the Korean Geotechical Society Conference, Korean Geotechnical Society, 2009, pp. 157–171.
P. D. Long and V. W. Vietnam, "Piled raft-a cost-effective foundation method for high," Geotechnical Engineering Journal of the SEAGS & AGSSEA, vol. 41, no. 3, pp. 1–12, 2010.
K. Al-Kodmany, "Tall buildings, design, and technology: Visions for the twenty-first Century City," J. Urban Technol., vol. 18, no. 3, pp. 115–140, 2011.
K. Al-Kodmany, Understanding tall buildings: A theory of placemaking. London, England: Routledge, 2017.
B. M. Das and N. Sivakugan, Fundamentals of geotechnical engineering. Cengage Learning,2016.
I. K. Ooi, Raft foundations for high-rise buildings on the bouldery clay in Singapore,1994.
H. J. Cowan, Design of reinforced concrete structures, 2nd ed. Old Tappan, NJ: Prentice Hall, 1988.
D. Ojha, R. K. Srivastava, "Combined Piled-Raft Foundation a Sustainable Option for Week Soil (Allu-vial Soil)", Journal of Mechanical and Construction Engineering, 1(1), 4, pp.1-6, 2021.
A. S. Chauhan, and R. Banerjee, "Seismic analysis of irregular building on hilly area," Journal of Mechanical and Construction Engineering (JMCE), vol. 1, no. 1, pp. 1–7, 2021.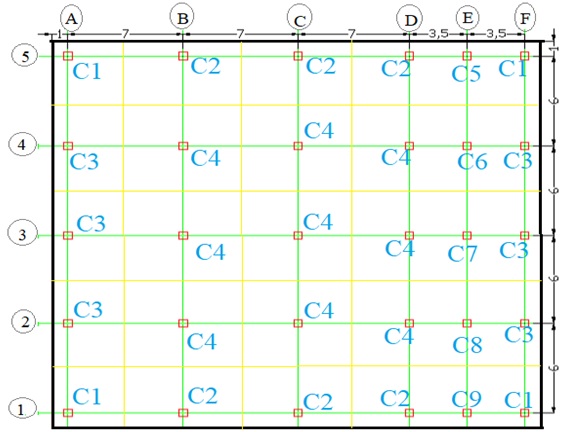 Downloads
How to Cite
[1]
D. Ojha and R. Kumar Srivastava, "Structural Design of Raft Foundation - A Case Study of Lucknow Region in Uttar Pradesh, India", J. Mech. Constr. Eng., vol. 1, no. 2, pp. 1–22, Jun. 2021.
CITATION COUNT
License
This work is licensed under a Creative Commons Attribution 4.0 International License.