Production of Bioplastics from Various Plant Parts
Keywords:
Biodegradable, Bioplastic, Starch, Pollution, Plastic
Abstract
The extensive existence of plastic in the environment has a serious effect on the living organism. In this study, the synthesis will be done in small quantity within the lab. Long lifetime, good barrier property, stiffness, tensile strength and tear strength make petro-chemical plastics more popular in society. Inspite of many advantages the plastic is proved to be more threatening for the mankind survival. The expected outcome of this project will be the biodegradable plastic which will be a great relief for society. Life be-gins from birth in which the play toy of newborn baby is plastic then as they grow up everything surrounding them is plastic, the plastic glass, plastic bottles, plastic buckets, plastic box etc. The research work on production of bio plastic using different plant parts will act as substitute for the plastic substances. For the betterment of living creatures and also for the betterment of the environment bioplastics formed from plant parts are better as compared to that of the plastics formed by traditional method. Due to the non-biodegradability of the plastics, they will be ominous for the whole system as the whole system depends on the plastic. Plastic pollution is responsible for the worsening of the habitat of organisms and the human lifestyle. With the help of this study, we will also analyze the properties such as water absorption capacity and bio- degradability. Mass production of bioplastic will be a great solution for plastic pollution.
Downloads
Download data is not yet available.
References
M. Ghamande, A. Kulkarni, N. Shah, et al., "bio-plastic (generating plastic from banana peels)," In International Conference on New Frontiers of Engineering Management, Social Science and Humanities Pune India, 2018.
E. B. Arukan, H. D. Bilgen, "production of bioplastic from potato peel waste and investigation of its biodegradability," In Interna-tional Advanced Researches and Engineering Journal", vol.3, no.2, pp.93-97, August 2019.
R. C. Thompson, C. J Moore, F. S. Y. Saal, et al., "plastic environment and human health; current consensus and future trends," Philosophical Transactions of the Royal Society B. Biological, vol. 364, no.1526, pp.2153-2166, July 2009.
G. Knight, "Plastic Scrap, in plastic pollution," London: Raintree, vol.1, 2012.
O. A. Alabi, K.I. Ologbonjaye, O. Awosolu, et al., "public and environmental health effects of plastic wastes disposal: a review," in Journal of Toxicology and Risk Assessment, vol.5, 2019.
H. Venkatachalam & R. Palaniswamy, "bioplastic world: a review," in Journal of advanced scientific research, vol.11, no.3, pp.43-53, Aug 2020.
J. Hopewell, R. Dvorak, E. Kosior "Plastics recycling: Challenges and opportunities," in Philosophical Transactions of the Royal Society B, vol.364, no.1526, pp.2115-2126, July 2009.
J. Yaradoddi, V. Patil, S. Ganachari, et al., "biodegradable plastic production from fruit waste material and its sustainable use for green applications," in International Journal of Pharmaceutical Research & Allied Science, vol.5, no.4, pp.56-66, 2016.
R. K. Beevi, S.A.R Fathima, T. Fathima. et al., "bioplastic synthesis using banana peels and potato starch and characterisation," in International Journal of Scientific & Technology Research, vol.9, no.1, pp.1809-1814, January 2020.
S.N. Swain, S.M. Biswal, P.K Nayak, "biodegradable soy-based plastic: opportunities and challenges," in Journal of Polymers and the Environment vol.12, no.1, pp.35-42, 2004.
H. Fessena, & F.Abebe, "degradation of plastic materials using microorganisms : a review," in Public Health Open Journal , vol.4, no.27,pp.57-63, 2009.
M. Shah, S. Rajhans, H. A. Pandya et al., "bioplastic for future: a review then and now," in World Journal of Advanced Research and Reviews (WJARR), vol.9, no.2, pp.56-67, 2021.
M. R. Sokele & A. Pilipovic, "challenges and opportunities of biodegradable plastic: a mini review," in Waste Management & Research, vol. 35, no.2, pp.132–140, 2017.
P. Prasteen, Y. Thushyanthy, T. Mikunthan, et al., "bioplastic-an alternative to petroleum based plastic," in International Journal of Research Studies in Agricultural Sciences, vol.4, no.1, pp.1-7, 2018.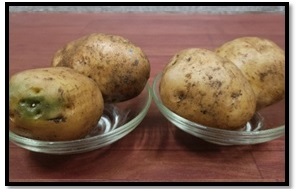 Downloads
How to Cite
[1]
D. Anna Thomas, "Production of Bioplastics from Various Plant Parts", J. Mech. Constr. Eng., vol. 3, no. 1, pp. 1–7, Apr. 2023.
CITATION COUNT
License
Copyright (c) 2023 Divya Anna Thomas
This work is licensed under a Creative Commons Attribution 4.0 International License.