Natural Hazards and Degradation of Landforms in Eastern Ramganga Basin of Kumaun Himalaya
Keywords:
Hazards, Degradation, Tectonic, Extreme Events
Abstract
Natural hazards are extreme weather and climate events that occur naturally in all parts of the world. Some regions are more vulnerable to certain hazards than others. Hazards become disasters when there is loss of people's lives and properties. Typically, a natural hazard can be defined as the probability of occurrence within a specified period of time and within a given area of potentially damaging phenomenon. In the present study an environmentally sensitive area suffering from natural hazards and degradation of landforms is selected. A detailed field investigation was conducted in the study area to find out the impact of processes causing environmental degradation. In the recent past these natural processes are rapidly increasing due to increasing phase of human activi-ties; causing damage to life and property in the Eastern Ramganga basin specifically and the Himalayan region in general. In the study area Kwiti, La, Jhekala, Nachani, Tejam, Dor, Bansbagad, Ruisapata, Simtola and many more villages were severally af-fected due to the natural hazards in the past few years. Eastern Ramganga catchment is highly vulnerable to the risk of several kinds of natural hazards. Disasters in the region cause great loss to life and property and pose serious threat to the process of develop-ment which has impact on economic and social wellbeing of the people living here. Thus, the impacts of natural hazards caused by different geomorphic processes including ex-treme events are multidimensional affecting environmental, social and economic sys-tems.
Downloads
Download data is not yet available.
References
Nisha, Pushpa and J. Joshi, "The firewood problems in rural communities of Uttarakhand", International Journal of Scientific Research, vol. 6, no.3, pp.13-14, 2017.
R.K. Bhandari," The Indian Landslide Scenario, Strategic Issues and Action Points". Proceeds of India Disaster Management Congress, vol.1, no.2, New Delhi 2006.
Nisha and Jyoti Joshi, "Impact of Environmental Hazards in Munsyari Block: Kumauni Himalaya", Universal Journal of Environ-mental Research and Technology, vol. 6, no.1: 36-42, 2016.
D. Brunsden, "Slope Instability", John Wiley and Sons Ltd., Chichester, England, pp. 363-418, 1984.
R. H. Campbell, "Soil slips, debris flows, and rainstorms in the Santa Monica Mountains and vicinity, southern California", U.S. Geol. Surv. Prof. Pap., vol. 851, pp. 1-49, 1975.
M.A. Carson and M.J. Kirkby, "Hillslope Form and Processes", Cambridge University Press, London, pp.1-475, 1972.
N. Mayer, "Environmental Repercussions of Deforastaion in the Himalayas", Jour. of World for. Res. Management, vol.2, pp. 63- 72, 1986.
A. Nemcok, J. Pasek, and J. Rybar," Classification of landslides and other mass movements", Rock Mechanics, vol. 4, pp. 71-78, 1972.
C.F.S. Sharpe, "Landslide and related phenomena", Columbia University Press, vol.46, no.7, New York 1938.
W.D. Thornbury, "Principles of Geomorphology", Second Edition, John Wiley and Sons, New York, pp. 62-98, 1969.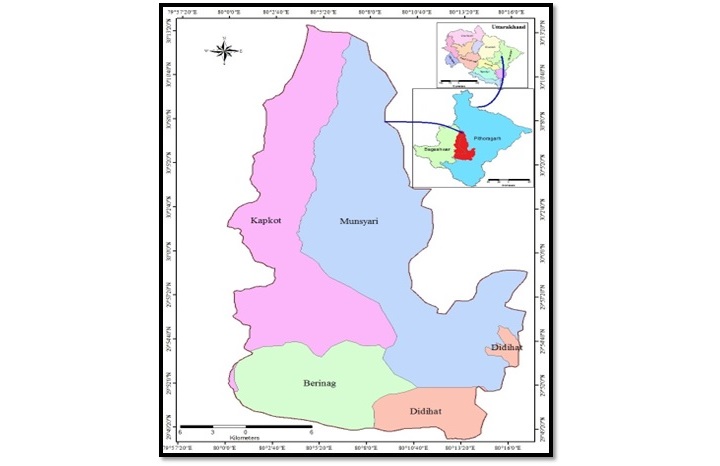 Downloads
How to Cite
[1]
Nisha, "Natural Hazards and Degradation of Landforms in Eastern Ramganga Basin of Kumaun Himalaya", J. Mech. Constr. Eng., vol. 3, no. 1, pp. 1–6, Apr. 2023.
CITATION COUNT
License
Copyright (c) 2023 Nisha
This work is licensed under a Creative Commons Attribution 4.0 International License.